Latest Federal Data Show That Young People Are More Likely Than Older Adults to Be Experiencing Symptoms of Anxiety or Depression
Americans' Mental Health Continues to Be A Concern as Many People Try to Move Beyond the Pandemic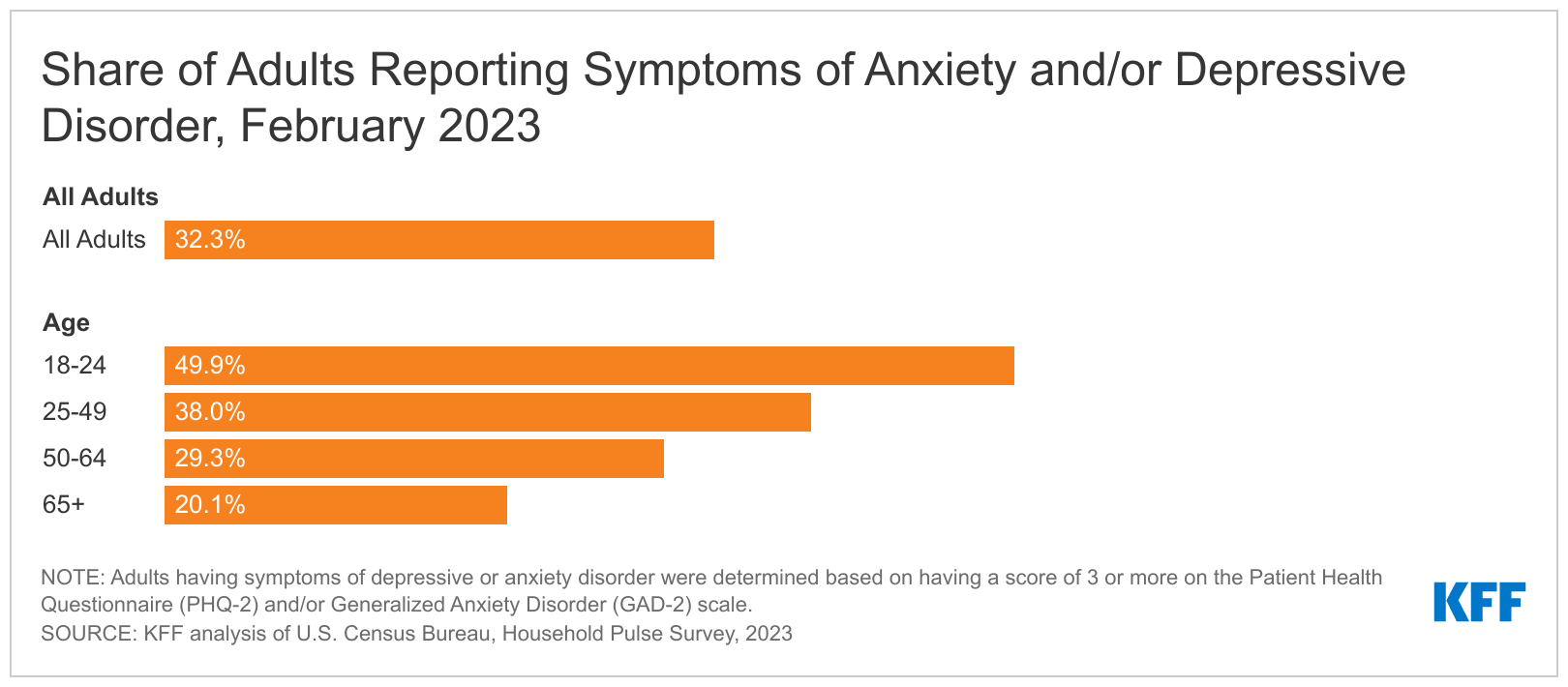 But young adults are not alone in experiencing heightened mental health symptoms. The mental health and substance use concerns that were present during the COVID-19 crisis continue to affect many Americans, even as many people try to move beyond the pandemic, Census data show.
Nearly 4 in 10 (39.3%) adults reported symptoms of anxiety or depression in February 2021, compared to 32.3 percent in 2023.  A KFF/CNN survey in October 2022 found that 90 percent of the public believes there is a mental health crisis in the U.S..
Poor mental health has also been more pronounced among adolescent females during the pandemic, with 57 percent reporting feelings of hopelessness and sadness compared to 29 percent of their male peers in 2021, the latest such data available. In the same period, 30 percent of adolescent females reported that they seriously considered attempting suicide, compared to 14 percent of adolescent males.
Additionally, drug overdose deaths have sharply increased during the pandemic. According to Centers for Disease Control and Prevention data, in 2021 there were over 106,600 deaths due to drug overdose in the U.S. — the highest on record. This spike in deaths has primarily been driven by substances laced with synthetic opioids, including illicitly manufactured fentanyl.
Here again young people especially have been affected.  Research suggests that while substance use among adolescents has declined, drug overdose deaths have sharply increased among this population, primarily due to fentanyl-laced substances. Among adolescents, drug overdose deaths have more than doubled from 2019 (282 deaths) to 2021 (637 deaths). Male, Black, and Hispanic youth have experienced the highest increases in deaths due to drug overdose.
The analysis details several changes in the delivery of mental health and substance use services that have been implemented since the onset of the pandemic, including the growth of telehealth, steps to improve access to treatment for opioid use disorders, expansion of school-based mental health care, and the rollout of the 988 national suicide prevention and crisis line.
Related Resources